Welcome to Fountainview at
Eisenberg Village
Once You're Here, You're Home
Make yourself at home in the Valley's charming Independent Living community, Fountainview at Eisenberg Village. Beautifully manicured pathways connect the well-appointed apartment buildings with a range of resort-style amenities and services. As part of Los Angeles Jewish Health, our full-service staff provides expert care and attention, helping to make life at Fountainview at Eisenberg Village healthy, fulfilling and enjoyable.
Valley Charm
Located in the established neighborhood of Reseda, California, part of L.A.'s expansive San Fernando Valley, Fountainview at Eisenberg Village is as convenient as it is comfortable. Living here puts you within minutes of the Valley's best shopping, dining and entertainment venue of Westfield Topanga and The Village, a short drive from medical offices and leading regional hospitals, and close to arts and cultural institutions, including the Skirball Center and Getty Museum.
Well-Designed Living Spaces
Each luxury apartment features high quality finishes and 10 or 12-foot ceilings,
creating a spacious, open feel. The gated, landscaped property includes a variety of communal gardens, courtyards and walking paths, perfect for keeping active and healthy while making
the most of the sunny Southern California climate.
Enriching Community
Life at Fountainview at Eisenberg Village is filled with a long list of amenities and services designed to maximize convenience while offering a range of engaging programs and social activities. From the state-of-the-art fitness center, creative arts studio and on-site movie theatre to the gourmet dining room, bar & lounge, and coffee bar, there's no shortage of ways to keep active and fulfilled—all shared with a vibrant community of likeminded neighbors and friends.
John Beyer
I have a wonderful home with new friends. Independent living offers a great life with balance.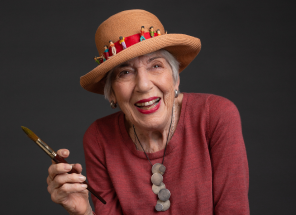 Reggie Scheer
It's hard to believe I have been residing at Fountainview for over a decade. Times flies when you are having fun.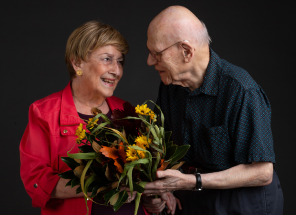 Gerry and Joy Picus
Gerry was happy to shed the responsibilities of home ownership and I relish the opportunity for social interaction with many residents.

Assisted Living
As healthcare needs evolve and change, we're pleased to offer access to a comprehensive range of Assisted Living services, allowing members to enjoy the same independent lifestyle, while receiving the benefit of individualized care from trained professionals.

Short-Term Rehabilitation
Fountainview at Eisenberg Village offers priority access to dedicated, short-term rehabilitation services, available on the adjacent Los Angeles Jewish Health campus. These specialized medical and rehabilitative treatments include physical, occupational and speech therapy.

Skilled Nursing
For those who require extra medical attention and support, due to dementia, stroke or other chronic conditions, Fountainview at Eisenberg Village offers members access to expert, long-term residential care through neighboring Los Angeles Jewish Health.